The winter season is upon us which means warm meals take on a whole new meaning on a cold night. There is something about curling up with comfort food on a cold night that just feels good. Here are 3 recipes we have on repeat during this winter season!
1. Roasted Butternut Squash Soup 


Ingredients
2 tablespoons butter
1 tablespoon avocado oil
2 cups yellow onions, chopped
1 15 oz can plain pumpkin puree 
1 1/2 lbs butternut squash, peeled and cut into chunks
3 cups chicken or vegetable stock
2 teaspoons kosher salt
1/4 teaspoon nutmeg
1/2 teaspoon pepper
1 cup half and half OR coconut cream
Instructions
Heat butter and avocado oil in a heavy bottomed stockpot. Add chopped onions and cook over medium-low heat for about 10 minutes or until onions are fragrant and translucent.
Add the butternut squash, pumpkin puree, stock, salt, pepper, and nutmeg. Cover and simmer, stirring occasionally, for about 30 minutes, or until the butternut squash is tender and you can easily pierce through with a fork.
Turn off heat and use an immersion blender to puree the soup to your desired consistency. You can also pour into a blender and emulsify that way.
Stir in half and half or coconut cream and heat slowly. Season to taste. For a fun twist, crumble our Almond SuperBites on top for a delicious crunch!

Photo Credit: Half Baked Harvest
Ingredients
1 can (14 ounces) chickpeas, drained and rinsed

2 tablespoons extra virgin olive oil

2 teaspoons smoked paprika

1-2 teaspoons crushed red pepper flakes

1 teaspoon fennel seeds

1 teaspoon mustard seeds

1 teaspoon onion powder

kosher salt and pepper

2 cans (28 ounce) san marzano tomatoes

1/2 cup basil peston

1 pound penne

8 ounces burrata cheese, torn

basil, for serving

 
Instructions
1. Heat a large pot over medium high heat, add the chickpeas, olive oil, paprika, crushed red pepper flakes, fennel, mustard seeds, onion powder, and a pinch of salt. Toss well to evenly combine. Cook, stirring often until the chickpeas are warmed through and golden crisp, about 5 minutes. Remove the chickpeas from the pot to a plate and set aside.
2. To the same pot, add the tomatoes - crushing them by hand as you add them, add the pesto, and a large pinch each of salt and pepper. Bring to a simmer over medium heat, cook stirring occasionally, until the sauce thickens slightly, about 10-15 minutes.
3. Meanwhile, bring a large pot of salted water to a boil. Cook the pasta according to packages directions until al dente. Drain and then toss the pasta in the red sauce.
4. Divide the pasta among bowls. Top with chickpeas and burrata. Garnish with basil.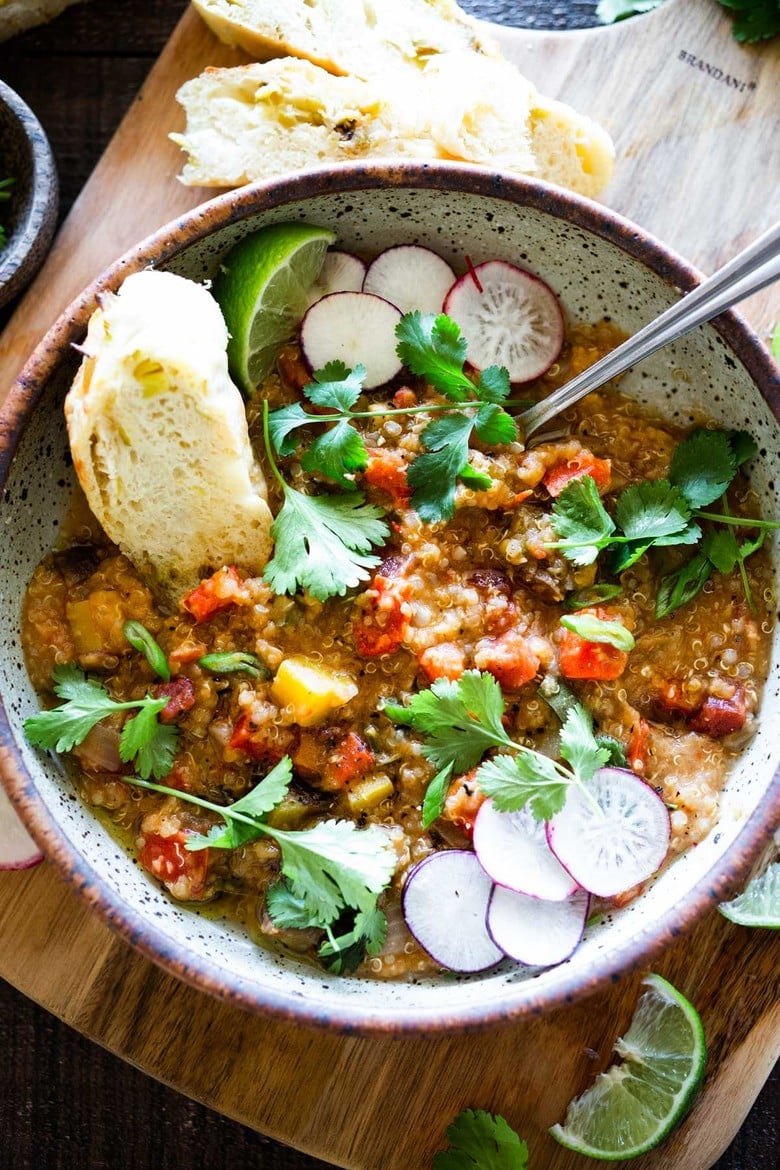 Photo Credit: Feasting at Home
Ingredients
2 tablespoons olive oil
One onion, diced
5–6 garlic cloves, rough chopped
3 carrots, diced (2 cups)
1 red bell pepper, diced
1 poblano pepper, diced (optional, for a subtle heat)
one 14-ounce can diced tomatoes (or sub 1 1/2 cups diced tomatoes with juices)
4 cups veggie broth
1  1/2 teaspoon salt
2 teaspoons cumin
1 teaspoon chili powder
1 teaspoon coriander
1 teaspoon cinnamon
1 teaspoon dried thyme (or add a few bay leaves)
1/2 teaspoon turmeric
1 teaspoon maple syrup
3/4 cup red lentils (split lentils)
1/4 cup quinoa
Instructions
Set Instant Pot (Pressure cooker) to sautè function and heat the oil. Add the onion and garlic and sautè 3-4 minutes, stirring until fragrant. Add the carrots, bell pepper and optional poblano and stir 2 minutes.
Add the diced tomatoes (and juices) and broth. Stir in the salt, cumin, chili powder, coriander, cinnamon, turmeric, thyme, and maple syrup. Stir in the split red lentils and the quinoa. You will be tempted to add more but don't. 🙂 Give a good stir. 
Set Instant Pot high pressure for 5 minutes. Manually release (cover the spout with a kitchen towel.)
Taste, adjust salt if needed. For a bit of acid, a squeeze of lemon or lime is nice. The stew will thicken as it sits.
Serve this up with fresh radishes and herbs. Add a drizzle of olive oil (or for extra richness and a swirl of yogurt).